Coming to us today from
http://www.curlyhairisbeautiful.blogspot.com/
is our
Friday Feature
!! Read on to hear what Danielle was told as "advice" for
taking care of curly hair
!! I'm still in shock....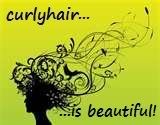 ~~*~~*~~*~~
What is your daily hair routine for your kids curly hair?
Each morning, I use a spray on moisturizer on my daughter, 'C's hair. Im currently using
Garnier Fructis Triple Nutrition Nutrient Spray
, which I really don't care for, but its cheap and better than nothing! I admit, I do style my daughter's hair a little too often, but Im trying to work on that.
Do you have any other "routines" that you add to that, but don't do every day? If so, what are they?
I style my daughter's hair too much, as I already stated. I do a style on Monday, and then on Wednesday or Thursday, I like to do a protective style (usually cornrows) that I will leave in all weekend. We always wash and detangle her hair on Sunday nights.
Do you use chemicals in your daughter's curly hair?
No!
Do you use heat (hair dryer, curling iron, flat iron, etc) on her hair?
Not very often, but yes, when my daughter insists on it and wont be talked out of it.
Have you ever straightened her hair? Why or why not? What were/are your thoughts on straightening curly hair?
I have straightened my daughters hair with a flat iron. I first wanted to do it just to see what she would look like with straight hair, and then I liked how much longer it looked, so I did it more after that. Now that I know better, I try to stay away from heat. I straighten my daughters hair once a year if that, and that is only when she begs for it to be done.
Before I knew better, I figured I better get used to straightening hair, because that was going to be what my daughter would want, and what would be easiest to deal with. Now, I know that it is damaging, and I don't like to do anything to damage my daughter's hair.
I have nothing against anyone who wants to keep their hair or their daughter's hair straight, it's just not my thing.
What is your favorite way to style kids curly hair?
Our favorite way to do my daughters hair is in braids (cornrows)
What do you like best about her curls?
Besides the fact that curls are beautiful, my daughter's hair makes her unique and stand out from the other kids. She has other biracial kids in her class, but none of them have natural hair! But sadly, that also makes my daughter want straight hair, to be like the other girls.
What is the worst hair advice you've ever received?
That would be a tie between these 2 things.... First, that hair grease was not only what I was 'supposed' to use, but that it was actually GOOD for your hair!
And tied for the worst advice.... When you comb your hair, you have to do it hard, and when you hear it 'pop' (snap) its a good thing, because that means your hair is 'alive'!
If there was one thing you could say or one tip you could give a young person with curls, what would it be?
Dont look to others as a picture of what your hair should be! If you don't want to keep it natural, that is your own choice, but don't let others influence you!
If there was one thing you could say or one tip you could give to the Parents of young children with curls, what would it be?!
Don't give up! So many people have told me that if their child had hair as curly as my daughters, they would keep it cut short and permed because it is too hard to deal with, too much work and too time consuming. Keep looking for the best products for your child, and find something that works for you!
*See more on our blog at
Curly Hair Is Beautiful
!
~~*~~*~~*~~
Oh my goodness!!! Can you believe that advice?!!? That is HORRIBLE! That it's
good
to hear hair snap!?!? yikes! Trust me, hair snapping is NOT good! It's usually painful, too! Here are my thoughts on
how to detangle kids curly hair
. Just sayin'!
Ok, now that I've gotten over that ... Thank you so much to Danielle for this great interview! It's definitely a treat to hear other people's stories and see pictures of more curly haired kids! Isn't her hair amazing?! Go check out her new blog, too!
If YOU want to be showcased as a Featured Follower, please send me an email at
curlyhairdoideas@yahoo.com
! Include "Friday Feature" in the subject line please!