Boy oh boy, it's hard to find "Norwegian Hairstyles" online! Maybe I'm just not looking in the right places. Anyway, I found a bit anyway! (and also realized that the traditional costume, the Bunad, has a head covering, so maybe that's why there isn't much for "traditional hairstyles"!)
(too cute!)
Well, maybe that, but also maybe they just like their hair down! :)
But, like I said I found a couple -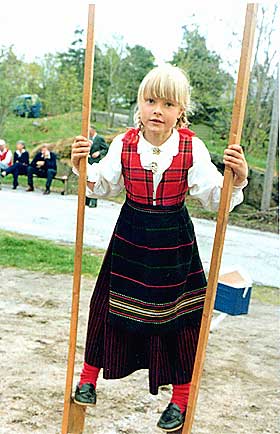 So of course I tried them on Q as well! :D Doesn't her hair look funny being so straight?! Her dad even commented on it this morning!
(Technical note: As her braids dried, they curled! LOL Not just the ends, mind you, but the whole braid!)
Ponytails, like the dancer on the left in the first picture!
And braids like the little girl on stilts!
(yeah, I wasn't being too concerned with getting the part straight.)
Resources!!
... (if you can't read Norwegian, use Google Translate! lol)
BUNAD (Magazine, I think)
and their
FACEBOOK
page.
My Little Norway
(you won't need google translate for this one)
Bye-Bye Norway! Thanks for the memories!
Yep, that's me up there :D