Hi! Welcome to our second ever Interview!! (I love these!!)
To find out how you can participate - go
HERE
.
Let me introduce, OperaDiva!
and now let the goodness begin .... :)
What is your daily hair routine?
Well, I actually don't wash my hair every day. More like every third day, my curly hair is way too dry if I wash it daily.
In the shower, I wet my hair then wash with conditioner (Suave Naturals tropical coconut
) by massaging it into my scalp for about a minute. All of those places that say to use a dime sized amount of shampoo/conditioner are ridiculous, I could never get that amount to work even in my fine, thin hair, I use a lot more.
After I co-wash, I use my rinse out conditioner, right now I'm using Garnier Fructisse sleek & shine
, but I really want to try one by Aubrey Organics
. Leave that on for a couple minutes while I do all the rest of my shower stuff, then rinse it out. I then put in a pretty generous half dollar sized amount of the Suave Coconut conditioner
as a leave in.
This is where it gets a little odd, but stay with me; still in the shower, I add a little bit (about the same as the leave in conditioner) of clear gel, and scrunch it in with my head upside down. I'm experimenting with what is referred to as the super soaker method, so right after this I scrunch a couple palmfuls of water into my hair until it feels a bit like seaweed. With my hair still dripping, I scrunch it up into one of those towel turban things, with my hair all piled on my head, none of it in the tail of the turban. Leave that on for about 15 minutes, then take it off and upside-down scrunch in some flax seed
gel (I make my own, it's not hard but there is a learning curve). Scrunch it up in the towel turban for another 5-10 minutes, then take off the turban and let it air dry the rest of the way.
When it's fully dry, I turn my head upside down and scrunch out the crunch with a TINY bit of coconut oil
on my hands. I have to be really careful here, if I use too much it looks really greasy. Voila, hair is done! It sounds a lot more complicated than it is, if I can do it while being a full time mommy to an almost 9-month-old, anyone can do it!
(Curly Hairdo Ideas has a recipe for homemade flax seed gel - find it HERE!)
Do you have any other "routines" that you add to that, but don't do every day? If so, what are they?
When I don't wash it, I generally spritz it with water with a drop of lavender essential oil, re-scrunch, and I'm ready to go! I also try to do protein treatments fairly often, since my particular hair type craves protein. And I use henna because it's pretty
Why Lavendar Essential Oil? Is it the oil? Or the scent? both? Would something else do the trick? What's the purpose?
It's a recipe in the book Curly Girl by Lorraine Massey, it's actually a bit more complicated than just putting it in the water, you basically steep the oil in water like you would tea. Not sure why it has to be Lavender, but it smells really good and does help me be a little less frizzy!
(Side note: I did a tiny bit 'o research on lavendar oil and it's supposed to be great for you in many ways!
"The health benefits of lavender essential oil include its ability to remove nervous tension, relieve pain, disinfect scalp and skin, enhance blood circulation and treat respiratory problems. Lavender has the Latin name Lavare, which means "to wash", due to its aroma that gives the feeling of a clean aroma." ~ quoted from www.organicfacts.net - better circulation will mean healthier hair growth as well. For more details on the health benefits of lavendar oil visit THIS site.)
What do you mean by protein treatments? Can you elaborate on that? How do you know your hair craves protein?
Another complicated question! I know that my hair craves protein because it is a very fine texture, and highly porous (there are tests you can do with your hair to find this stuff out, they're pretty easy and involve running your fingers along a single hair in both directions). There are some good commercial protein treatments out there, I've heard good things about the Aphogee 2-step although I haven't used it. I do a homemade treatment with eggs, mayonnaise, honey, and sometimes random other protein containing ingredients. Leave it on for about an hour, co wash it out, then do a deep conditioner for an hour. It leaves my hair amazingly soft!
Can you talk a bit about Henna?
Sure! Henna is a natural herbal color for your hair, it adds a coppery red tint, turning to a less natural reddish purple if you do a lot of applications. It is very conditioning on most hair types if you use the pure "Body Art Quality" henna. I don't recommend boxed henna hair dyes because some of them contain metallic salts, and if you try to dye over those with commercial dye you generally get fried, green hair. I actually need to do another application, Henna is so pretty and I love the reddish tint! Be aware though, that the lighter your hair, the brighter the red, and it is as permanent as permanent gets, you will have to grow it out to get the color gone. Do strand tests first on shed hair from your hairbrush or shower. I found all of my information on www.hennaforhair.com, they know more about it than I do!
Do you use chemicals in your hair?
Yes, but no silicones or sulfates.
Do you use heat (hair dryer, curling iron, flat iron, etc) on your hair?
Not anymore! My hair actually looks a ton better and healthier since I stopped styling with heat.
Have you ever straightened your hair? Why or why not? What were/are your thoughts on straightening curly hair?
I used to straighten it all the time, I thought it looked better, but really I just didn't know how to maximize my curl potential, so it was dry and frizzy and had no curl definition. Now I don't because I know the heat can be very damaging to curls, and I want the healthiest curls possible.
What is your favorite way to wear your hair?
Down and curly!
What do you like best about your curls?
That they add volume and texture to my hair!
What is the worst hair advice you've ever received?
To brush my curly hair so it wouldn't look "messy". I followed this advice for YEARS, and now I know it was majorly contributing to me having split ends and damaged hair.
If there was one thing you could say or one tip you could give a young person with curls, what would it be?
Throw away your hairbrush and don't shampoo every day, and when you do shampoo, use one without sulfates!
If there was one thing you could say or one tip you could give to the Parents of young children with curls, what would it be?!
Embrace the curls, don't try to get rid of them using harsh methods!
In caring for curly hair do you think shorter is easier to maintain - or long? Or does it matter?
Shorter or mid range is generally easier, but longer can be absolutely stunning, just requires a little more product.
Anything else you would like to add that I haven't thought to ask?!
Not that I can think of! Oh, here are my "before and after" pics if you want them! (of COURSE we do!!)
Before CG and a haircut, on a pretty typical hair day:
After a haircut and being CG for about 6 weeks, on a good hair day: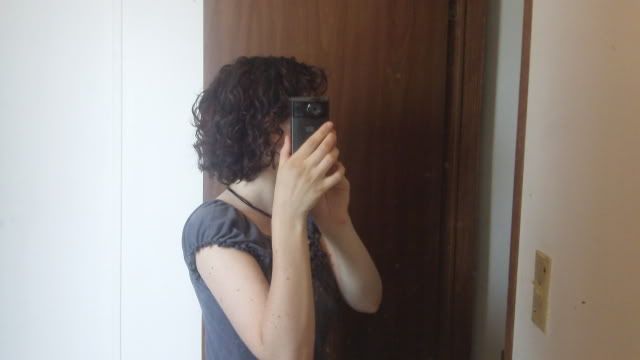 Gorgeous pictures and a treasure-trove of information! Thank you so much, OperaDiva!!
p.s. Adorable baby, by the way! :D So young! Where does the time go??